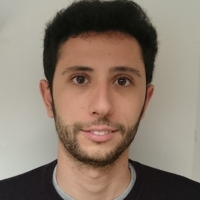 Lab 4.06, Office 4,26, Institute of Medical Sciences
Institute of Medical Sciences
Foresterhill
United Kingdom
Project title: Candida Proteomic responses to antifungals
I attended my bachelor in Biotechnologies (2012), from University of Palermo (Italy), where I come from. My thesis work was titled "Expression analysis of the genes involved in tryptophan biosynthesis in Streptomyces coelicolor". The main goal was to investigate on the expression of tryptophan biosynthetic pathway of streptomycetes, not well characterized, grown on different media containing various combinations of aminoacids. During this circumstance I realized my interest in microbiology, with the strong potential held in it.
In 2013 I studied "Biotechnologies in Industry and Scientific Research", carrying out my master thesis "Bacterial and Yeast Cell-Surface Display" at FHNW in Basel, Switzerland. There I developed and analyzed different display systems on bacteria and yeast, in order to develop an enzymatic assay, by presenting a protein of interest on the cell surface. During this experience I had the chance to explore a wide variety of techniques regarding genomics and proteomics and, furthermore, I figured out I wanted to go on with the research field.
For this reason and for my passion for microbiology I applied for OPATHY training network, to better understand Candida and to develop new diagnostic tools against infections of these microorganisms. Since August 1st I started the project titled "Candida Proteomic responses to antifungals" at the Institute of Medical Sciences at the University of Aberdeen, Scotland, under the supervision of Prof. Carol Munro (Aberdeen Fungal Group). The aim of my project is to identify resistance biomarkers in main pathogenic Candida species and to isolate and assess of llama antibodies against selected candidate biomarkers.