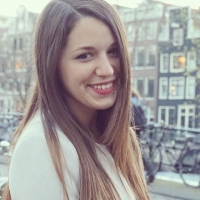 Project title: Comparative transcriptomics to study host-pathogen interactions: C. albicans, C. glabrata and host marker genes during infection
I studied Molecular biology and physiology at the Faculty of Biology University of Belgrade, where I obtained BSc (2012) and MSc (2013) degrees. I worked as research associate at National Reference laboratory for medical mycology (Institute for Microbiology and Immunology, Faculty of Medicine, University of Belgrade, Serbia) where I had an opportunity to learn about human fungal diseases and participate in different research projects based on the development of methods of prevention, diagnosis and treatment of severe infections in immunocompromised patients.
I was mainly working on characterization of invasive strains, such as susceptibility testing and genotyping of Cryptococcus neoformans (master thesis), but also investigation of antifungal effect of different compounds against Candida, Aspergillus, Scedosporium and dermatophytes, biofilm forming ability of clinical isolates and anti-biofilm potential of plant compounds.
During 2014-2016 I was engaged on a project "Development of biopolymeric formulation of antifungal polyenes using medium chain length polyhydroxyalkanoate (PHA): validation against superficial mycoses" (ESCMID Research grants, PI: Jasmina Nkodinovic-Runic) at the Institute of Molecular Genetics and Genetic Engineering (Belgrade, Serbia) where I tested different biomaterials on medically important yeasts and moulds impregnated with antifungals with aim to develop safer and more efficient devices for prevention and treatment of fungal diseases. I also did several practical trainings and research internships (Hans Knoll Institute, Germany; Royal Free Hospital, UK, Instituto de Salud Carlos III, Spain and Institute of Microbiology and Immunology, Slovenia).
Since January 1st I am working as ESR on OPATHY project at the Department of Microbial Pathogenicity Mechanisms at the Hans-Knöll Institute in Jena, Germany (Prof. Bernhard Hube). The aim of my project is to use comparative transcriptomic approach to study host-pathogen interactions: C. albicans, C. glabrata and host marker genes during infection.