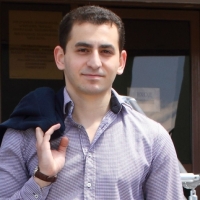 08003
Barcelona
Barcelona
Spain
Project title: Comparative transcriptomics of host-pathogen interactions
I am originally from Armenia, where I have studied Bioengineering and Bioinformatics at Russian-Armenian University from 2009-2014. In 2014 I have graduated the University with Summa Cum Laude diploma of Specialist in Bioengineering and Bioinformatics. Since 2011 in parallel with studies, I have also been working as a junior researcher at the Institute of Molecular Biology of National Academy of Sciences of the Republic of Armenia at the lab of Ethnogenomics, where I was utilizing different approaches of bioinformatics and population genetics in addressing different questions of ethnogenesis of the Armenians and neighboring populations.
In August-September 2014 I have joined Dr. Toni Gabaldon's group at Centre for Genomic Regulation (Barcelona, Spain) as a summer intern, where I was involved in the project on comparative genomics of long non-coding RNAs.
Since June 2016 I have joined the OPATHY MSCA ITN at the Centre for Genomic Regulation (Barcelona, Spain) to perform ESR2 project "Comparative transcriptomics of host-pathogen interactions" under the supervision of Dr. Toni Gabaldon and Dr. Bernhard Hube (Hans Knöll Institut, Jena, Germany).
In current post-genomic era methods of different –omics are successfully applied in such a sophisticated area as host-pathogen interactions. Moreover, approaches of experimental and bioinformatical methods in complex play crucial role in understanding the mechanisms of numerous complex diseases and further development of new treatment and diagnostics strategies.
Nevertheless, the most part of the underlying pathomechanisms of numerous microbial and fungi species is still a black box for researchers, and that's why millions of people worldwide still suffer, for instance, from Candida infections.
Thus, the aim of the ESR2 position of OPATHY project is to shed light on how host-pathogen interactions vary during infection and across Candida species by comparative transcriptomics approaches. In particular, we will study the nature and progress of fungal infections by analyzing RNAseq data generated by other ESRs members to identify similarities and differences in the transcriptome dynamics during infection process across Candida species and strains. A special focus will be made on identification of potential diagnostic markers.
Have a look here to see a short video of Hrant at CRG.