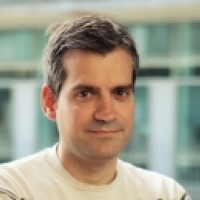 Comparative Genomics Group
08003
Barcelona
Barcelona
Spain
Comparative genomics and transcriptomics of fungal pathogens
Toni Gabaldón is a biochemist and molecular biologist by training (Universities of Valencia and Mainz). After several years working in a molecular biology lab on the regulatory response of yeasts to stress, he was attracted by the emerging fields of genomics and bioinformatics and moved to the comparative genomics group of Martijn Huynen in 2001 (Nijmegen, NL). He obtained his PhD in the Medical Sciences in 2005 (Radbout University Nijmegen), and then moved to the bioinformatics department at CIPF (Valencia) with an EMBO Long Term Fellowship. In September 2008, Gabaldón started his own group at CRG and from 2009 he is also associate professor at the Universitat Pompeu Fabra (UPF), where he teaches bioinformatics and molecular evolution. He has received prestigious grants and recognition among which the ERC starting Grant, the ICREA Professorship, memberships in the global (GYA) and European (YAE) academies of young scientists.
The main research interest of Gabaldon's group is to understand the complex relationships between genome sequences and phenotypes and how these two features evolve across species. We generally use large-scale phylogenetics approaches that allow looking at the evolution of genomes from the perspective of all of their genes, and we apply these analyses to a variety of biological questions, including those related to the evolution of fungal pathogens.
Selected Publications
Marcet-Houben M, Gabaldón T. (2015) Beyond the Whole-Genome Duplication: Phylogenetic Evidence for an Ancient Interspecies Hybridization in the Baker's Yeast Lineage.
PLoS Biol.13(8):e1002220.
Jarvis ED, et. al. (2014) Whole-genome analyses resolve early branches in the tree of life of modern birds.
Science. 12;346(6215):1320-31
Pryszcz LP, Németh T, Gácser A, Gabaldón T. (2014) Genome comparison of Candida orthopsilosis clinical strains reveals the existence of hybrids between two distinct subspecies.
Genome Biol Evol. 6(5):1069-78.
Gabaldón T et. al.( 2013) Comparative genomics of emerging pathogens in the Candida glabrata clade.
BMC Genomics. 14;14:623.